Paris.
i just got back home 3 nights ago. when the plane came in over the rockies, over vancouver, my left ear sealed completely, because i am having some head cold problems, left over from this terrible flu which i got in India, probably H1N1, in my opinion. it really was a break-bone fever. anyways, as i was saying, my left ear sealed, and it was quite awkward for me, having to meet my eagerly awaiting family and hearing my own voice trapped inside my head every time i said anything. i was just plain disoriented, incredibly so, having spent about 27 hours on planes and in airports.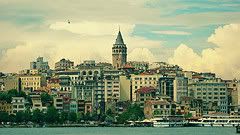 Istanbul.
when i left mumbai it was pouring rain and 3 am. for one month i had been there, a 12.5 hour time difference from my home. life is hard in mumbai. it is expensive, the most expensive city in India, and during this time of the year, we all live under the constant oppression of the climate. in the first week or so when i arrived, it was so hot i couldnt survive long outside. like a spoiled caucasian from the west i bought myself rooms with air-con the whole time, until the monsoon rains finally showed up. a non air con room is half the price.
the rains would come in bursts, maybe last for one or two hours, then the rest of the day it was a comfortable 28C and overcast. once, i was on the beach in goa when the rain burst over the sand. the drops stung me when they touched my skin, they shot themselves right through my closed, squinted eyelids and dislodged my contact lenses. they drove away the desperate, persistent touts and hawkers that had followed me the length of the beach for half an hour, trying to sell me anything they could, because it was the off-season and i was the only white tourist around.

Mumbai.
Last night, i went out for dinner with a good friend. he bought me one glass of champagne, and as we chatted, i realized that the entire last year of my life has been something incredible, so good, i cant expect anything more from this year ahead of me. (my years are measured from summer to summer, not january to january. even though my birthday is in january.) i can only expect a lot of hard work and self-inner-life development. my friend told me the japanese word for this kind of year, but i forget what it was. it was verry bleak and serious. in japan they realize there are periods of life that people go through like this. my friend says these are times "when you dont promote yourself. you just work very hard, quietly". i have a long way to go in school, i lost my job, i am living at my parents house right now. its all very practical, and makes sense, and i have some things to work towards, but..
my boyfriend has left this city. he has been here only two years, i have been here 5. he is moving to madrid, right now he is working in milan, italy. he is foreign, 2 years younger than me. when he was here he made me feel like i was connected to the rest of the world..or at least something bigger, something exciting. he was my link out of this small canadian city. this fantasy land where everything is so perfect its easy to get in trouble, by accident. its a place where the people are all white and socially cold, insecure. music snobs, giant north american culture craze, trashy hoody droopers downtown on the corner, "tattoos", paper bag mcdonalds, smirking makeup around the eyes muffin top sunburn shoulders, movie theaters, $10 tickets, $2.25 a bus ride, $8 an hour did you need a hand with anything ok take your time minimum wage retail worker.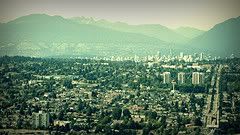 Vancouver.
i looked up at the wine glasses hanging upside down above the clean wooden bar, my friend went to the bathroom. my (ex) boss was sitting somewhere else in the restaurant, reminding me to be upset i no longer have a comfortable job to slip back into. the air was cool, it was not humid, the streets are so clean, everything is clean and of sound construction. there are rules here about that kind of thing. laws.
in europe, they feel at least like they have a language, a culture that they maintain and uphold. there is a sense of being small, not the centre of the world. their culture is not popular everywhere, not exported to even the smallest one room cement cell in a kathmandu slum. they have something unique and they are proud.
in india, the basic necessities of survival are clear, bare on the streets. reality is not complicatedly hidden behind screens of money and welfare and government and cell phone corporations. the humanness of everyone becomes clear. the men are small and move gracefully. cows shit in the street and women sweep it away, birds eat their own, dead roadkill, every sentence is ended with "yaar" (friend), the rich dont interact with the poor, a meal costs less then $4.
what im saying is. my point is just this;
here in this developed nation i dont feel connected to reality. no one knows how deeply we live in this dream. i miss living somewhere hard and awake. we all crave novelty, maybe thats just what my problem is.
as i looked at the upside down glasses hanging, i remembered last winter, rocco, my job, my old room, my old self, the places i left, the people speaking hindi with wobbling heads, and i cried a bit. then we got drunk.